Me backstage at a fashion show. Never would've thought !!

I volunteered to be a dresser, and my BF was game as well. We were to help out backstage at the

White Club

-sponsored fashion shows, which included Jean Pierre Braganza, Klavers von Engelen and Kristian Aadnevik!

We arrived to a warehouse-type venue right on the brink of the Naviglio. Walking in we came upon a mini-fashion show taking place in a small annex next to the entrance.....I failed to catch the designer's name. What I did catch (right away), were the Louboutins on the girls. The red sole worked its magic on me.

We made our way backstage where I was ushered into a room full of FIERCE. No, I am not kidding.

Jean-Pierre Braganza on the left and Kristian Aadnevik on the right. Neither of them design for the faint of heart. Kristian's jewel-colored mini dresses with bondage-inspired straps, buckles and belts, and Jean Pierre's architectural coats and drapy dresses were enough to send my senses into a frenzy.




THEN I SAW THE SHOES.



I went a little crazy taking pictures of the shoes, but how couldn't I?? both were GORGEOUS. JP's were reminiscent of the givenchy gladiators of past season but had an awesome metal spike heel, that turned invisible against the gray carpeting. It was as if the girls were on tiptoes. Among his other shoes were these KILLER booties that have to be seen to be believed. Olena R. was supposed to wear these, and my BF told me he had to go get a band aid for her foot after she had walked with them. She didn't have a blister... she had a downright CUT.


poor Olena!


KA's shoes were chunky black platforms with metal rings... I loved the contrast of the aggressive black patent w/ metal rings against the flowy femininity of the chiffon straps (that were a bitch to tie, BTW!)


Kristian and his stylist Marcus introduced themselves right away, which was a gesture I appreciated greatly... they are incredibly chill and down-to-earth.
Jean Pierre was pretty amazing himself... I wanted to go up to him to tell him how much I loved his winter knits from FW08 but I didn't want to sound like an eager fangirl. After all of 20 minutes of containing myself I just went up to him and told him... and he was so sweet, hugging me and saying "awww thank you!".


I was assigned the model Zhanna Havlenko, she had two looks (in both shows) while my BF had Olena Romaniuk... He was pretty antsy about the whole-abundance-of-naked-girls thing but I just told him to relax. I am not, as you may have gathered, a jealous girlfriend :D
On the other hand, the young security guys were constantly trying to peek inside while the girls were changing... They also were asking the backstage photographers to email them the "money shots". Gross.

I fortunately was able to get my girl in and out of her two looks without a hitch. It was so fast how everything unfolded!


JP happy as a clam at the end of the show
Innovative materials and cuts will hopefully get JP more noticed... I would've worn pretty much everything out of there. Futuristic, sharp, and drapy are all things I die over!


After recieving instructions from Kristian on how to tie the shoes me (that were to be left on for both looks) and Diana (my dresser partner) started mulling about...until we realized that our girl was the only girl with pants, and the intricate shoes were supposed to come off for her to be able to change into the minidress.
When Zhanna came back after the first look with the pants we scrambled to get her shoes off while getting her into the dress, but the girls on staff were rushing everybody so Z did her second look without the chiffon laces. Ah well.


Olena R.
yay for Olena! she closed the show with this look.
Zhanna
H.
It was over as soon as it started, at least it seemed. D (my BF) wondered how strange it must feel for the designers, slaving over the collection and perfecting every last detail for the show to have it be over in around 20 minutes...!
Though Kristian's 'look' is not my style for everyday, I couldn't help swooning over the whole collection. The details were mind-blowing. Feathers, painted sequins, patent leather, buckles and delicate chains layered over delicate chiffon and satin. Total bondage-glam!
The bright, saturated colors of the chiffon kept the look from going into cliche' "frilly+aggressive" territory.


Kristian being interviewed

We had an absolute blast and cannot wait for February when the FW09 collections show... plus FW always delivers the most gorgeous collections.

oh, in case you're wondering what I wore...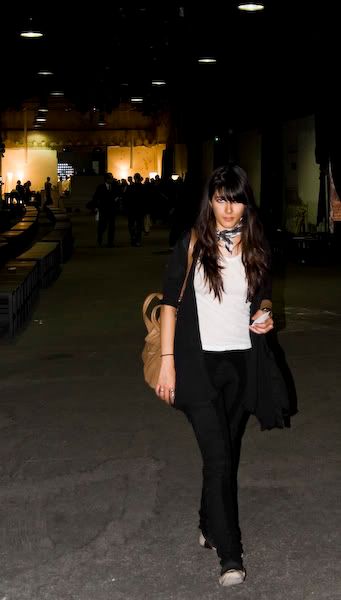 ro
petit bateau
drkshdw
marni
Simple...but I didn't want to out-fierce the designers, hahaha!



For more photos check out my Flickr

If you use my pics please make sure to credit the source :)