Went shopping with my BF in the shopping mecca that is Milan yesterday.
I wore my rick owens 2ply twisty tee, Noir bridle belt, comfy cheap mondays and pollini boots. Note how I am unwittingly standing in front of the Pollini store, giving them free publicity!

(good or bad? your choice!)
(well, my screen name

is

jungle jane...)
After I had sworn many times that I wouldn't splurge in Zara and H&M (choosing to save up and buy fewer but higher-end quality items), that BAD BAD STORE lured me in. I went in to buy a quick dress for a short-notice wedding (which I found!) and I found myself drooling on all the amazing floral prints. AND I HATE FLORALS. Or so I thought.
There is only one person to blame here, and it's Nicholas Ghesquiere. I admit to have been brainwashed by fashion. Florals are in and I am loving them!
I chose wisely to stay away from the flower prints even though I reeeeally wanted to get something, because I was sure that next year that thang would've been confined to the "back of the closet" (practically a place of no return for my too-trendy, disposable clothes). My dear BF helped to make my decision, expressing silent but very expressive facial disgust at the loud colors on the floaty silks.
I bought a really nice but simple cream-colored empire cut dress. To layer it I got a huuuuge black linen wrap, it's so versatile and gives a great drapy but structured look. Next was a taupe-ish gray cardi, it is made out of the softest material and is kind of shimmery. This is my wedding attire, I would've gone designer but I also think about the price-per-wear. I will post the outfit in its entirety when I wear it on Sunday!


BONUS BUY:
behold my first gladiators of the season!! do not think FOR A SECOND that these will be the last pair I get, there are still plenty on my to-buy list. I still need them in black and in white, for example.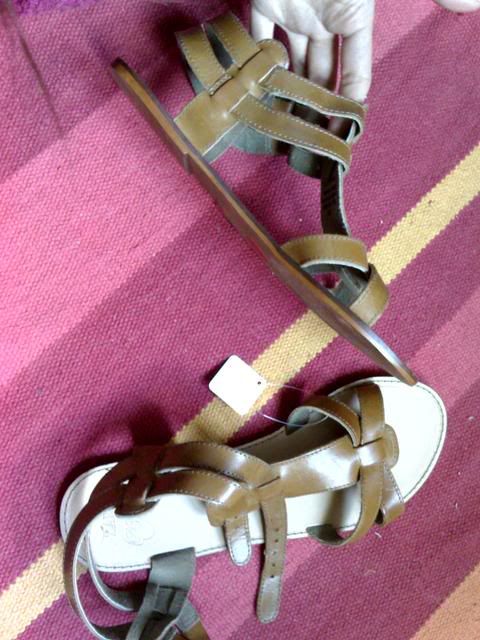 totally cute and only 40 euros :D