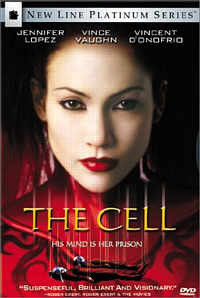 One of my favorite movies of all time is
The Cell
(2000). I don't know if you have seen it, but it contains some of the most beautifully intricate costumes and sets that I have ever seen. Not only is it cured in this aspect, but the storyline is like no other. I do not want to spoil the movie for you if you have not seen it.
Do you know that feeling you have when you've just woken up from an incredibly crazy dream? while you were dreaming, the dream (in all its senselessness) was perfectly logical and the sequence of events seemed (relatively) normal. Once you wake up and try to tell someone about it, you realize as you're talking about it how illogical/crazy it really was.

The scenes of the movie when they are inside the other's minds completely embody this feeling of "relative" normalcy. (Relative to what, you ask?)

I searched for the mastermind responsible for such costumes and found out it was

Eiko Ishioka

, Oscar-winning costume designer.



(pictures from newline.com)
(yes, that is J.Lo. She is actually not annoying in this movie)

I managed to find an interview with her regarding the costumes of The Cell here.
I was also very happy to discover she directed a Bjork video,

Cocoon

, one that I have always liked (it's up there with

Hunter

). Isn't it great when you find out things like this?



She has a long list of impressive credits, such as working on the Cirque du Soleil Varekai as well as Wagner's "Ring Cycle" opera costumes.

one of her prints:
Now
WHY ISN'T SHE A FASHION DESIGNER????
I think she would make some groundbreaking collections. With an imagination such as hers and the willingness to go all out I can really see her creating some INCREDIBLE pieces for RTW.

Is it me, or am I seeing a hint of Alexander Mcqueen FW08 in all this?