CAREFUL: THIS POST MAY OR MAY NOT BE SAFE FOR WORK, EVEN THOUGH I THINK EVERY WORKPLACE CAN USE A HEALTHY DOSE OF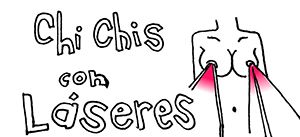 YOU HEARD CORRECTLY!!






I am at a LOSS FOR WORDS. Lazertits has filled my day with colorful joy!!!

What is Lazertits, you ask?

It is best described by the site itself:


For centuries the female bosom has been wrongfully held in the prison of maternal duty and manboy motor-boating. The time has come to blow the cell doors open for breasts! Howl for hooters! Get toasted by tits! Behold the blazing boobs! It's time to get ZAPPED!!!! LAZERTITS looks into the past and changes the future one broad at a time. What will YOU say when your kids ask where you were during the revolution? Don't burn your bra, BLAST IT!!!

Amen!!

They are supposedly going to come out with some t shirts which I most likely will be buying(and subsequently forcing on all of my friends).



pics from lazertits.com